Currently Working On 4/7/13:
-Working on a Trailer trailer and content that will give users a stronger idea of what the RPG components of the game will be, for the more hardcore, like the battle system, and world exploration and we'll be showing off some of the gear you can collect! We're really excited about this stuff so please stay tuned!
Hello! My name is Tristan! The producer behind Pon! I'm here to tell you about "Pon"- a new addictive virtual pet with RPG elements that we'll be launching soon for the iOS! Pon is the ONLY pet where you can expect to gain valuable loot, battle and explore areas! Before I lose your attention span I'll quickly give you an idea of what Pon looks like, or you can just jump into the trailer here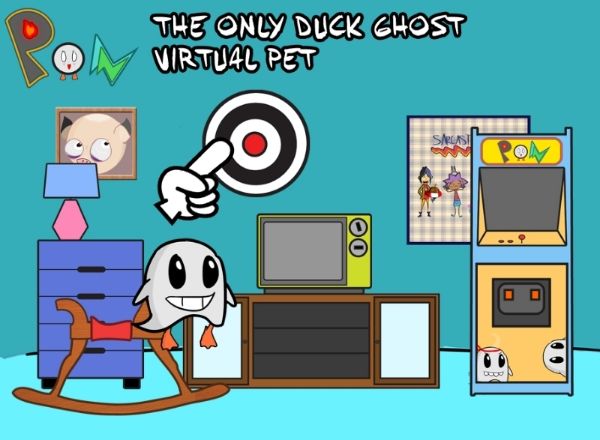 Let's also take a peek at the sweet interface.
TAMAGOTCHI. DIGIMON. The Generic Virtual Pet that you found in that bargain bin. Are the feelings of nostalgia establishing them deep in your gut? It's time to resurrect the 90's!
In Pon, you'll have a pad away from your pad. You and your pet will make lots and lots of money and have ridiculously fancy things. Everything from that retro tv above to a gold plated cuckoo clock will be purchasable to satisfy your tackiest of tastes. I plan on stuffing at least 100 collectibles for launch, and with options like a plasma television and salvaged cyborg- not to mention colorful shopping venues, I think you'll be entertained.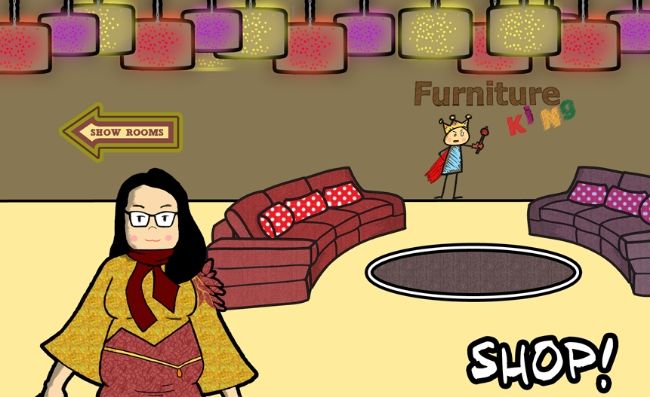 As you level up, Pon will also be able to wear some super cool gear- like a birthday hat- or an eye patch if you're some kind of ghost loving tough guy.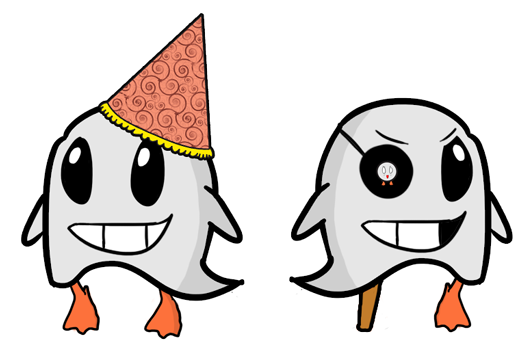 There will be many skins and costumes for your Pon, but you'll have to earn it. All Pons will start out as cute grey blobs. Really spiffy ones will be available for the high leveled players.
Pon's Battle System happens to be my favorite element of the game. (who doesn't like battling cute pets?) It was designed to both give newbies a fighting chance as well as give the more hardcore a slight edge. In Pon, the battle system will consist of 3 factors. A Rock, Scissors, Paper face off followed by a SPIN phase is which the two competing players will spin the wheel as quickly as possible to accumulate damage bonuses.
Did we mention there'd be mini games?
So! Interested? Great! In order to give the game some buzz and build up awareness we'll be doing in game currency giveaways for legendary items and experience boosters. We've also got stickers, shirts, postcards and other
We are also encouraging users give us ideas for items and feedback on the game! We want to know what you'd like to see! If you're interested in being a part of Beta also feel free to drop us a line on Facebook! We expect that this will occur sometime in early May
This is my first game I'll be producing, so I'm very excited to reaching out personally to the community to promote and tell about the game and take suggest/questions! We'll also regularly be allowing players to create and submit items that they want in the game. I want Pon to originate as my idea, but eventually be shaped by the players!